Buy Premium Prebuilt GPU Crypto Mining Rigs in the UK
Mine 100s of a altcoins.
Get the best ROI with our expertise.
Earn High APY with Staking.
Premium enclosed case GPU rigs.
Easily mine & switch between coins.
Latest AMD & Nvidia GPUs available.

Flexible future-proof crypto mining.
Power-efficient models.
Pre-configured to Plug + Play.
Full training & support.
VAT registered limited company.
IT specialists with 15+ years trading.
As a great alternative to bitcoin mining rigs, choose our GPU mining rigs and switch between a multitude of popular cryptocurrencies and altcoins, including Flux, Kaspa, Ethereum Classic, NEOX, Raven Coin, Bitcoin Gold, Vertcoin, Cortex, Conflux, Meowcoin, and much more. Data correct as of 07.09.2023.
View Rigs
Buy Now
Crypto mining rigs and blockchain hardware solutions for businesses
With the Bitcoin halving approaching and the expected growth that will follow, there has never been a better time to enter crypto mining and start accumulating cryptocurrencies as a UK business owner. Our prebuilt crypto mining rigs are a great future-proof alternative to Bitcoin mining rigs or ASICs due to their versatility and support for switching between 100s of different altcoins. 
Trading for over 15 years, we sell premium business-grade crypto mining solutions to other businesses around the UK and provide the expertise to make crypto mining work. With us, you can buy your mining rig fully loaded with the latest range-topping GPUs, optimised, tested and configured so that they are ready to use out-of-the-box.
The rigs we offer are essentially GPU servers and come bundled with powerful graphics cards, which simply put, undertake complex calculations to generate cryptocurrency. Your mined cryptocurrency can then be stored in a wallet and left invested so you can HODL (Hold On For Dear Life), it can be exchanged for another cryptocurrency like Bitcoin or Ethereum or converted to FIAT such as Dollars, Pounds and Euros.
We would always suggest you diversify and HODL, but if you are interested in the current prices, you can check below.

Crypto mining IS worth the ("lack of") effort
Many business owners we speak to have the preconceived idea that the crypto opportunity has passed, that they have "missed the boat" or perhaps they require a massive IT infrastructure with thousands of servers needed. However, this is simply not true. Mining crypto can be undertaken by businesses of any size!
With the products and services from Opace, business owners can invest in our powerful crypto mining computers which operate 24x7x365 to mine and accumulate a range of different cryptocurrencies.
We said, "lack of" effort in the title above, as this requires minimal effort from the business and is a bona fide opportunity to earn crypto  "while you sleep". What's more, is that our mining computers don't contain specialist hardware or need special care – they are essentially just servers like any other server that a business would operate, which is why this is a perfect opportunity for businesses in the UK.
BROWSE OUR PRODUCTS ONLINE
Prebuilt crypto mining rigs, fully-loaded and ready to go with the very latest GPUs.
Below shows example prices and GPUs, but we have a wide range of options.
Limited stock, order today!
Flagship 6 GPU AMD Radeon RX 6600 or 6700 Crypto Mining Rig
~250 MH/S With ETC
From £7,500 plus VAT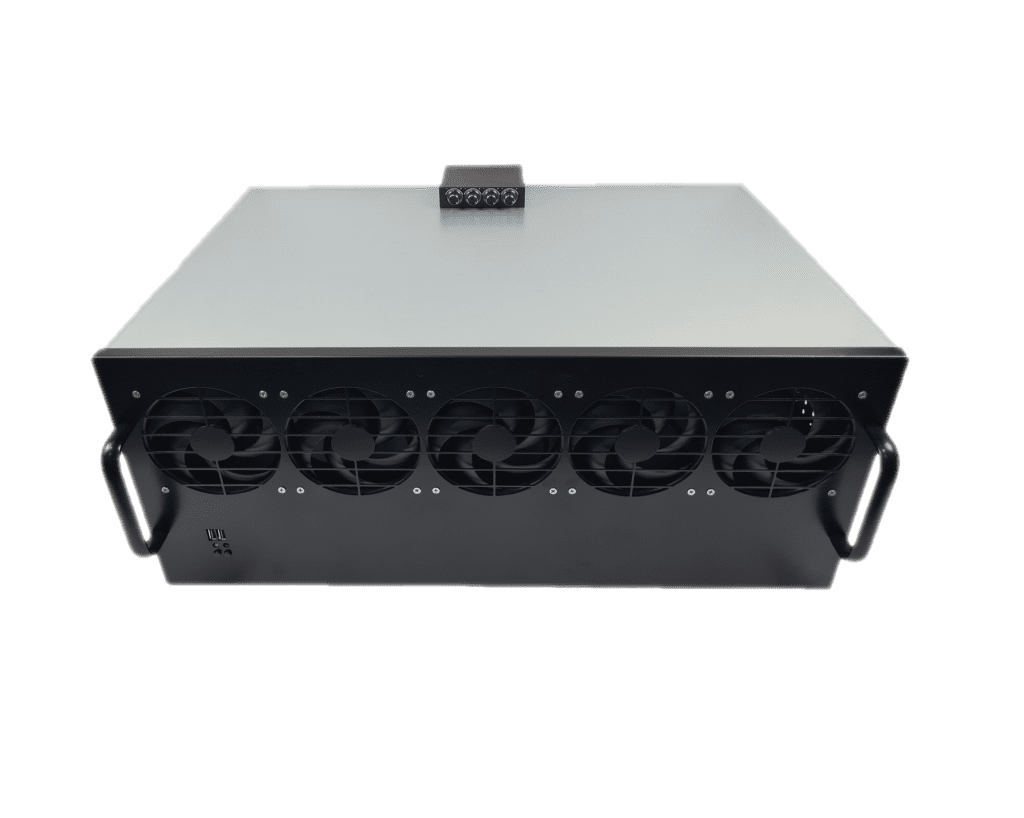 Hash Power Example (Mining ETC)
Approx Power Usage (Watts)
Hash Power Example (Mining ETC)
Approx Power Usage (Watts)
6 GPU Nvidia 3060 TI or 3070 TI Crypto Mining Rig
~400 MH/S With ETC
From £12,000 plus VAT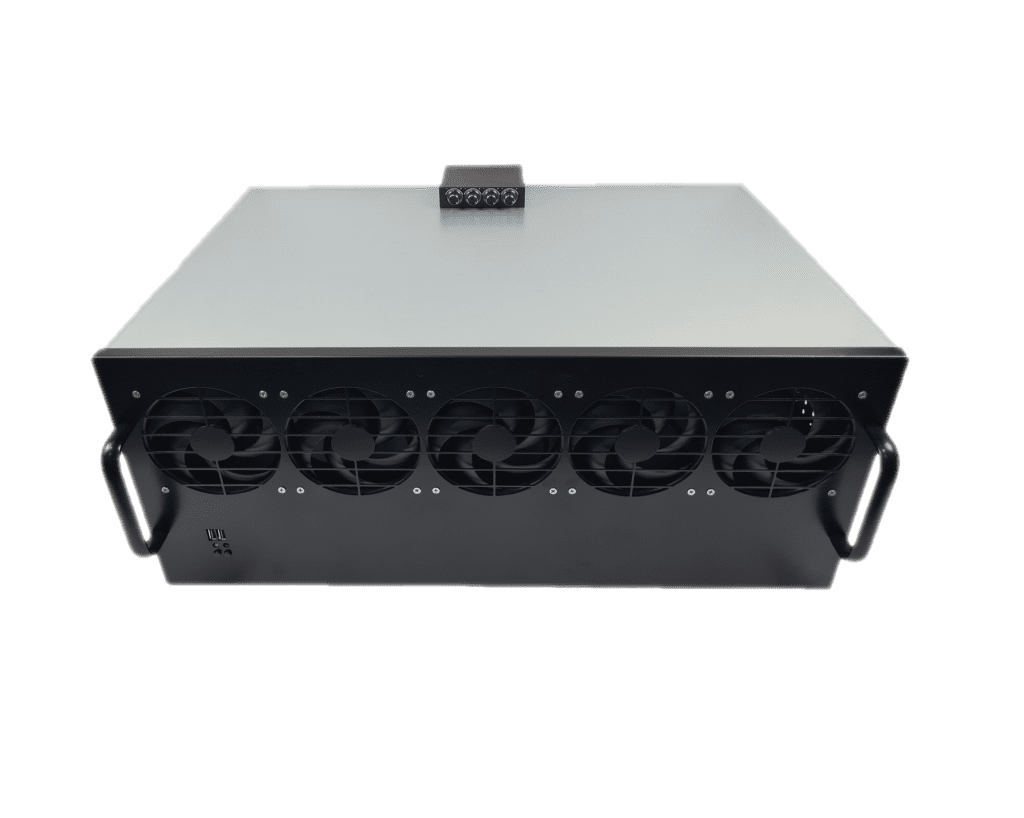 8 GPU Nvidia 3060TI or 3070TI Crypto Mining Rig ~500 MH/S With ETC
From £15,000 plus VAT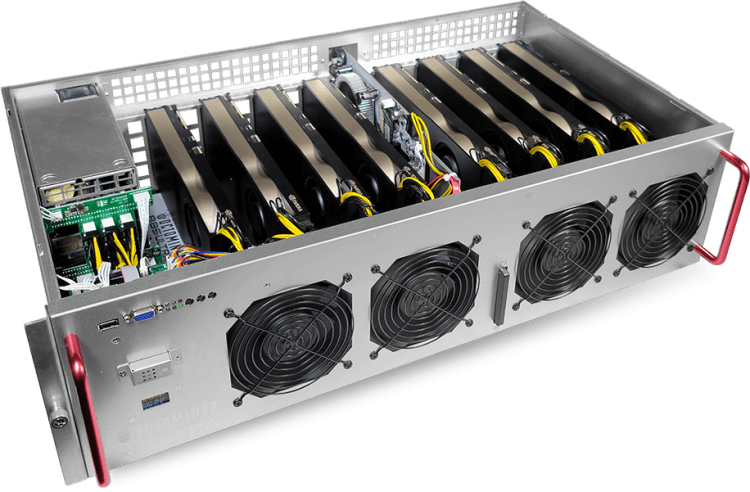 Hash Power Example (Mining ETC)
Approx Power Usage (Watts)
Hash Power Example (Mining ETC)
Approx Power Usage (Watts)
Ultimate 8 GPU Nvidia 3090 Crypto Mining Rig
~1,000 MH/S With ETC
From £28,000 plus VAT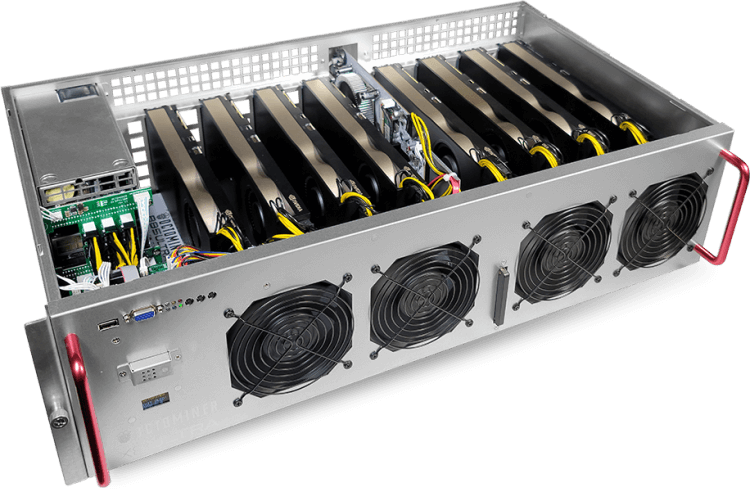 Would you like to customise your mining rig? Not a problem…
It may take a little longer to build and dispatch, but if you would like to customise any of our crypto miners below, please let us know:
More RAM? not a problem – just let us know what size you need
More disc space? not a problem – just let us know how much space you need
More GPUs? not a problem – just let us know which makes and models
CPU mining upgrade? not a problem – just let us know which CPU
Why invest in an Opace crypto mining rig?
Latest spec Nvidia and AMD GPUs
The very latest in  Nvidia RTX 30 series GPUs and AMD Radeon 6000 XT series GPUs to power your mining rig and protect your investment. We don't compromise on quality and we don't use old cards. The GPUs we provide are the best you can buy and are likely to hold their value for a long time to come. 
Fully enclosed business-grade cases 
Unlike open air rigs, our crypto mining computers are designed for home, business, or office use. They look smart and can be placed on or under a desk like any other computer system. They don't need to be hidden away and you don't need to worry about your expensive hardware being exposed to the elements.
Fully customisable and premium options
If you would like to upgrade your CPU, RAM, HD or PSU, it's not a problem. We even offer upgrade options for the case with the smart management capabilities, LCD display, automatic case fan regulation, hot swap power supply, and more.
Fully optimised for speed, heat and noise
Finding the balance between speed whilst balancing heat generation and noise is a fine art. We fully manage this for you and will ensure you get a mining rig that is as cool and quiet as possible. We will even make sure the fans can be speed controlled.
Fully tested and monitored
Once your rig is fully assembled by our team of experts, we will leave it running for a minimum of 1 week 24/7 to emulate your own environment. During this time, we will quality test your hardware for stability and hashrates.
Plug and play hardware + professional support
We will configure your mining rig with Hive OS so that's it's plug and play, and ready to go out-of-the-box. We're even available by phone to support you with creating your account, joining a mining pool and setting up your exchange/wallet. We will even help you with switching what you mine.
New to crypto?


Here are some of the most common questions, answered
How does crypto mining make money?
In our mining rigs, GPUs (powerful graphics cards) carry out complex calculations known as Proof of Work to mine cryptocurrencies.
How much income can be generated?
The only limit to how much income can be generated is the amount of "hash power" that can be generated by your mining equipment.
What ROI will I achieve?
Historically, our customers have achieved 120-140% ROI in 2 years; however this changes constantly especially given the current economic market and world affairs.
Why GPU mining over ASIC?
If you have heard of ASIC miners, we choose GPU mining here at Opace as we feel this is a far better investment. GPU rigs will  hold their value better and run less risk of becoming obsolete. 
Is this Bitcoin mining?
No. The world's best known cryptocurrency, Bitcoin, has become incredibly difficult and expensive to mine. However, you can convert your mined crypto into Bitcoin easily.
What is Ethereum?
Ethereum is a blockchain platform with its own cryptocurrency (called ETH) and provides a decentralised, open source mechanism for creating smart contracts and decentralised applications.
I'm not a techie, will this be complicated?
We will help you to set up your mining rig, which usually takes a couple of hours. Once up-and-running you can leave your computer alone and watch you crypto balance grow. 
What else do I need to start mining crypto?
You will need a wallet and mining software configured to mine and store your crypto, somewhere to place your mining rig and the electricity to keep it powered up and working. 
Can I convert my crypto profits into GBP?
Absolutely! As big believers in crypto, we always suggest that customers HODL (Hold On For Dear Life) to take advantage of its growth but you can convert to GBP or other FIAT currencies at any time.

Check out the spectacular growth of Bitcoin and Ethereum
For more detailed questions and answers about cryptocurrency and our crypto mining computers, browse our FAQs below.

Our Story – 10+ years trading – 
From digital agency to crypto techies
If you have Googled Opace, you may wonder why a digital agency is selling crypto mining computers. To give you a brief background, Opace are a UK based family business who are passionate about all things tech. Opace was founded in 2008 and has been trading as a VAT registered limited company for over a decade providing technology solutions using open source software. We consider ourselves to be an innovative forward-thinking business and we always strive to look ahead of the business/technology curve and break new grounds. 
We have always believed in the value and purpose of cryptocurrency and being built upon the philosophy of open source and decentralisation, it's right up our street. In recent years, we have been experimenting with and investing in cryptocurrencies personally. We have been researching blockchain networks, the challenges preventing users from investing in cryptocurrencies and viable solutions to help us tap into this opportunity. Part of this has included developing fast/efficient crypto mining computers as a way to generate a passive income.
We've had so much success with our endeavours that we decided to branch out and launch this as a new product to other businesses. Our cutting-edge crypto mining computers generate significant investment returns and there has been no better time to get involved.
We have 100% positive customer reviews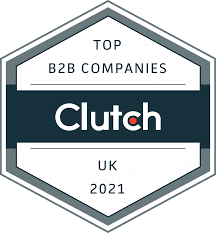 Contact us to order your crypto mining rig today
Address
Opace Ltd, Park House, Bristol Rd South, Rubery, Birmingham, West Midlands, B45 9AH. United Kingdom.